Home Page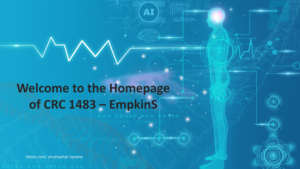 Collaborative Research Centre
"EmpkinS" is a Collaborative Research Centre (CRC) funded by Deutsche Forschungsgemeinschaft (DFG). We are in the first funding period (duration: July 2021 – June 2025).
The full title of EmpkinS is: "Empatho-Kinaesthetic Sensor Technology – Sensor Techniques and Data Analysis Methods for Empatho-Kinaesthetic Modeling and Condition monitoring"
The twelve-year research program of the CRC 1483 aims to open up completely new "digital" and patient-centered diagnosis and therapeutic options in medicine and psychology.