BHI Workshop in Greece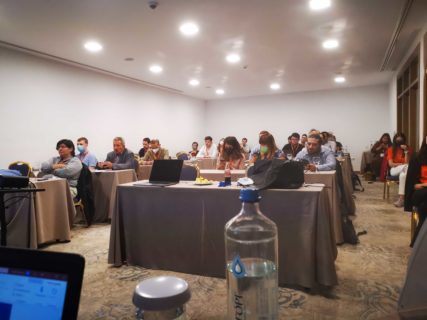 On September 27th, Björn Eskofier, Martin Vossiek, Anne Koelewijn and Daniel Krauss organised a workshop called "1st Intl. Symposium on Understanding Inner States of Humans using Measurements of 'Invisibles' – 'Empatho-Kineasthetic' Sensing" at BHI (IEEE-EMBS International Conference on Biomedical and Health Informatics) in Ioannia, Greece.
The symposium focused on new ideas, sensors and technologies such as radar, radio, laser and camera sensors to improve the diagnosis process and the daily lives of patients as well as physicians. It brought together technical experts in biomedical signal processing and physicians specialising in patient care. The symposium provided a forum for academia, clinicians, industry, health insurance, and governing bodies to exchange ideas and to promote collaboration. ??
The speaker ?️ list included:
Theodora Chaspari, PhD, Department of Computer Science and Engineering, Texas A&M University, USA
Bjoern Eskofier, PhD, Machine Learning & Data Analytics Lab, FAU Erlangen-Nürnberg, Germany
Sevgi Zübeyde Gürbüz, PhD, Department of Electrical and Computer Engineering, University of Alabama at Tuscaloosa, USA
Anne Koelewijn, D Eng, Machine Learning & Data Analytics Lab, FAU Erlangen-Nürnberg, Germany
Bobak Mortazavi, PhD, Department of Computer Science and Engineering, Texas A&M University, USA
Anastasia Pentari, M.Sc,DepartmentofComputerScience,UniversityofCrete,Heraklion,Greece
Avik Santra, M.Sc, Head of the Advanced Artificial Intelligence Team, Infineon Technologies AG, Neubiberg, Germany
Manolis Tsiknakis, PhD, Professor of Biomedical Informatics and eHealth, Department of Electrical and Computer Engineering, Hellenic Mediterranean University, Heraklion, Greece