Illuminating Science Slams: EmpkinS shines at Wissenschaftstag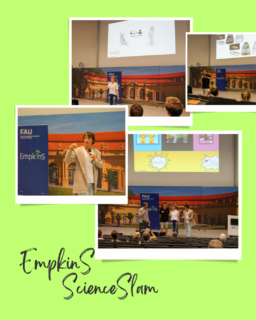 On July 28, 2023, the 16th Wissenschaftstag (Science Day) of the Metropolitan Region Nuremberg took center stage, with a spotlight on the theme "Mensch im Zentrum: Gesundheit – Innovation – Verantwortung" (Human at the Center: Health – Innovation – Responsibility). At this prestigious event, our CRC 1483 EmpkinS delivered three electrifying Science Slams, featuring expert researchers Vanessa Wirth, Max Tretter, Prof. Dr. Bernhard Egger and the brilliant moderation of Markus Gambietz.
The presentations proved as an excellent opportunity to get more involved with the scientific discourse and sparked significant interest for EmpkinS in many of the attendees.