EmpkinS scientists visit EBS2022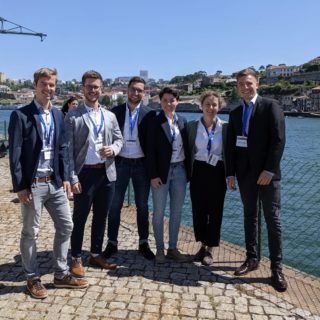 Between the 26th and 29th of June, five of our researchers represented our CRC EmpkinS at the European Society of Biomechanics in the city of Porto, Portugal.
The ESB organises an annual exhibition about different topics in the field of Biomechanics.
At the event itself our researchers Jörg Miehling (left, first picture) gave a presentation about EmpkinS and Birte Coppers (second to right, first picture) as well as Iris Wechsler (third to left, first picture) presented posters about our work (second picture).
Our team really enjoyed networking with different scientists from all around the world. Also they were able to attend a presentation by Stanford professor Ellen Kuhl about brain-research and Alzheimers.
Our representative team and the subproject they are related to, in detail:
Birte Coppers – D01
Jörg Miehling – PI C02 and C03
Julian Shanbag – C03
Iris Wechsler – C02
Simon Heinrich – C04
David Scherb – Colleague from KTmfk (not EmpkinS related)
After the event our scientists did not miss the chance to also explore the city of Porto a little as well!
If you want to learn more about the #ESB2022, visit: https://esbiomech2022.org