Pfauennest II Grand New Opening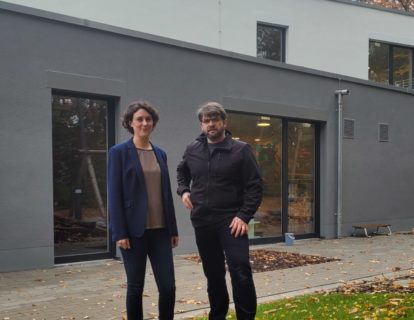 On October 18th, 2022, Pfauennest celebrated the grand opening of its new daycare facility "Pfauennest II". The new facility is connected to the original through a multipurpose room, which can be used for sports activities and gatherings.
In addition to families and children visiting the event, there were also representatives from the different sponsors, such as Hochschulbau, State Building Authorities (double funding from the state and funding from the city) and Johanniter, who supported the project from the very beginning and gave the children at the daycare a beautiful hidden picture book as a present for the grand opening.
EmpkinS supports the daycare through investments via the F3G-Verbund (research networks of FAU for the promotion of gender equality). The capital spent goes into toys, books and other items the children benefit from. The F3G-Verbund was represented by Ms. Stolberg, picture 1 (left upper corner).
The building itself is very close to the south campus and therefore easily accessible for student and scientist families alike. Directly connected to the building complex is a safe and adventurous garden for the children to play in.
After the official part of the event, the facility director Ms. Scherzer gave a tour around the new rooms. There the attendees viewed beautiful rooms perfectly prepared for the children with huge windows allowing plenty of natural light, colourful interiors and creative atmospheres as well as a kitchen where the children can join their daycare providers in cooking.
The complex houses 89 children, 12 of them in an additional nursery group. It offers great parking possibilities and access for bikes. All in all it is a very attractive offer for student parents and employees with families and a huge advantage for FAU as an employer.
From the EmpkinS family there will be three children attending the daycare in the future! ?‍?‍?‍?