Prof. Katharina Schultebraucks on scalable, automated, and feasible risk stratification of adverse mental health effects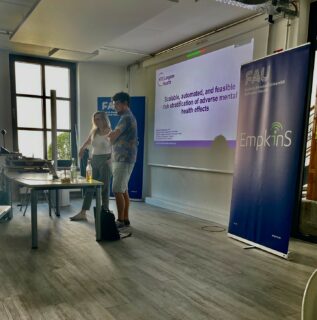 Prof. Katharina Schultebraucks from the NYU Grossmann School of Medicine gave a talk on "Scalable, automated, and feasible risk stratification of adverse mental health effects" on Thursday, June 22, 2023, at 12:30 at Carl-Thiersch-Straße 2b in Erlangen.
Digital technologies and advances in computational methods have become key drivers of innovation in medicine. In psychiatry, accurate and reliable digitally-derived measures of mental health can inform patient stratification and care. Digital psychiatry can reduce costs, increase scalability, and improve test-retest reliability while decreasing subjective biases. However, to date, digital technologies have not yet unlocked their full potential to guide clinical decision-making.
In this talk, Prof. Katharina Schultebraucks highlighted examples of digital approaches in psychiatry from her own multidisciplinary research that is focused on bringing together the expertise of clinical practitioners with recent advances in predictive modeling and digital phenotyping.  She discussed how those approaches bear a high potential for clinical application and may improve the scalability and sensitivity of clinical assessments. In view of these recent advancements in prognosticating risk using computational methods, she will conclude by discussing the clinical implications for the future use of machine learning approaches for predicting and monitoring posttraumatic stress and resilience in clinical settings.
Katharina Schultebraucks is currently the Co-Director of the Computational Psychiatry Program and Associate Professor in the Department of Psychiatry and Population Health at NYU Grossmann School of Medicine. She completed her Ph.D. in the Department of Psychiatry and Psychotherapy at the Charité – Universitätsmedizin Berlin in Germany and the Department of Psychology at the Free University, Berlin. She did her postdoctoral fellowship in the Department of Psychiatry at NYU Grossman School of Medicine and was the Florence Irving Assistant Professor and Director of Computational Medicine and Artificial Intelligence in the Department of Emergency Medicine and Psychiatry at Columbia University before joining NYU in January 2023. Since the early time of Dr. Schultebraucks' dissertation project, her research has focused on studying mental disorders from a translational point of view by examining primary behavioral functions and dysfunction of various neuroendocrine, molecular, cellular, and genetic pathways from an integrative, multi-systems point of view. She investigates longitudinal and prospective studies to identify complex sets of early predictors. Dr. Schultebraucks' primary research focus is centered on precision psychiatry by applying advanced computational methods to improve individualized risk stratification and individualized treatment allocation, leading to publications in Nature Medicine, JAMA Psychiatry, and Molecular Psychiatry. She has been awarded several awards and national and international grants from, e.g., from the National Institutes of Health (NIH) and the Swiss National Science Foundation.