EmpkinS Lecture Series: July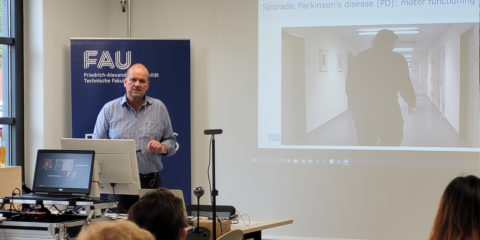 "Parkinson's Disease Neurodegenerative Movement Disorders"
In his presentation Prof. Dr. med. Jürgen Winkler showed the audience how patients with Parkinson's disease move and walk (asymmetric and slow).
He also explained for example how exposure to pesticides triples the risk of developing Parkinson's disease.
Also he elaborated how the genes of an individual van contain risks for as well as protection against different diseases like Parkinson's.
In context of present disease concepts he showed how scientists have the goal of restauration in neuroprotection even though the state of the art is  just close to achieving "only" stopping and delaying progression.
At the end he introduced the GAIT programme which helps through validation with mobile sensor-derived parameters in clinical measures in Parkinson's disease.